Admin
15 November 2023
Views: 10
What is a Civil Engineering Dissertation?
Civil Engineers are the technical professionals who design and look after the construction of many infrastructures like buildings, dams, canals etc. Engineers search for smart and sustainable ways that benefit the general public in today's fast-paced world. Civil engineering also has a lot of research scope and students are keen to find the most perfect civil engineering dissertation topic for a bright future.
Hunting a topic that is prime in the professor's eyes and fits right in your hectic schedule is difficult. We have prepared a list of topics that will sparkle your civil engineering dissertation and you'll have to search no more. Before we dive into that let's discuss how you can form a good topic and use it to write better dissertations.
Steps to Select Superior Civil Engineering Dissertation Topics
Follow these steps to design the most suitable topic for yourself.
Analyze the latest innovations: While searching for civil engineering dissertation topics, you need to stay updated about discoveries and research. Because current theories are more relatable, you will stay interested and can carry forward with research.
Review related publications: When you find your topic of study, you need to collect what other authors have to say. Go through related articles and create a roadmap to your new topic. Analyze these papers for areas that have the potential to form your new topic.
Create a list: It's normal to have not one but many topic ideas in your mind. Keep a record of all the topics that you find suitable. You can also create a comparison table, it will help you to reach a final decision.
Take advice from professors: If you are facing issues in deciding what's best for your dissertation, you can always take advice. Discuss your research intent and ideas you have in your mind and ask which topic will create more impact.
Check feasibility: No matter how great your civil dissertation topic is, if you can't make the time and effort required, it's not worth it. Your topic should be impactful but less complicated which promises positive and impressive outcomes.
Browse for content availability: A popular topic will have many publications compared to others. It benefits you as you'll have so many references to look up to.
Scope in future: A civil engineering topic that is capable of flourishing in future is welcomed by professors. That way you can carry the research in your professional life as well. That is why you need to see a bigger picture when you choose your civil engineer dissertation topic.
How to write a civil engineering dissertation?
Writing a civil engineering dissertation can be pricky but not when you take each step with utmost care. Here are some guiding points for you.
The theory should be well-rehearsed: Your dissertation topic should be like your best friend. You should know every basic concept related to it. Revise the theory before you start your research and thesis writing so that you can smoothly conduct your research.
Create a research proposal: The foremost thing you need to prepare for your research proposal. It states the reason for choosing that topic in your dissertation. You should also explain how you think your research and practical analyses can add to the research.
Collect valuable Literature: Before diving into your findings, you need to present what other researchers concluded and how you used that information. When students don't write.
Introduce your topic with a problem: The introduction is where you give details about your topic and your research. Explain your topic in such a way that readers get an idea about your research. You can also add definitions for better explanations.
Mention methodologies: Next you need to mention all the methods you used in your research. You need to conduct practical so that you can collect data to prove your research. Use multiple and reliable ways of conducting to be sure about your findings.
Include Observations and Visual Proof: Simultaneously with your methodology you need to represent your observations and images. This is a very proficient way of showing progress in your research. You can even use graphs and pie charts to compare different observations.
Write an impressive conclusion: After you have mentioned every detail in your thesis you need to end it with a remarkable conclusion. This part is very important and should address all the learning and results you generated from the research.
Cite References: In the end, provide the name and destination of references you took from other research papers. This is very important or else your dissertation thesis will be considered as plagiarized.
Revisit for mistakes and make changes: With the completion of writing the thesis, you need to check it completely for mistakes. Never forget this very important step or it will harm your grade. Make appropriate editing and revise until you are completely sure that it is errorless.
Take Professional Review: Before submitting your dissertation for assessment, take feedback from your near ones or your advisors. Having a secondary perspective is important to grow[u1] beyond your expectations.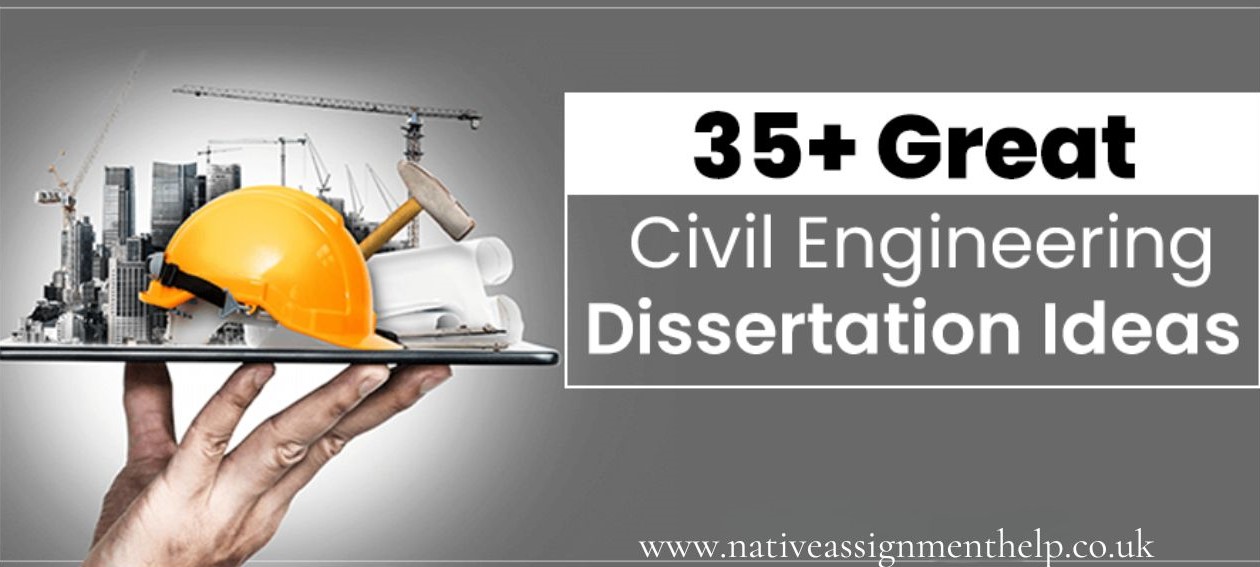 List of Best Civil Engineering Dissertation Topics
Sustainable Infrastructure Development: Integrating Green Building Technologies
Resilient Urban Planning: Strategies for Mitigating the Impact of Natural Disasters
Innovations in Bridge Design: Advanced Materials and Structural Systems
Smart Cities and Transportation: Optimizing Traffic Management through IoT
Climate Change Adaptation in Coastal Engineering: A Focus on Sea Level Rise
Circular Economy in Construction: A Case Study of Material Reuse and Recycling
Digital Twin Technology in Civil Engineering: Enhancing Project Efficiency and Management
Geotechnical Engineering for Underground Construction: Challenges and Solutions
BIM (Building Information Modeling) for Infrastructure Projects: Implementation and Benefits
Innovative Approaches to Earthquake-resistant Structures: Lessons from Recent Events
Urban Water Management: Sustainable Solutions for Water Scarcity and Quality
Renewable Energy Integration in Civil Engineering Projects: Case Studies and Best Practices
Advancements in Tunneling Technology: Tackling Complex Geological Conditions
Human-Centric Design in Civil Engineering: Enhancing Accessibility and Inclusivity
Digital Transformation in Construction: Applications of Artificial Intelligence and Machine Learning
Hydraulic Fracturing in Geotechnical Engineering: Risks, Benefits, and Regulatory Considerations
Performance-based Design of Structures: A Shift from Prescriptive Codes
Low-Impact Development (LID) Techniques for Sustainable Stormwater Management
Drones in Civil Engineering: Applications for Inspection, Monitoring, and Surveying
Optimization of Tall Building Designs: Balancing Structural and Environmental Considerations
Digitalization in Construction Project Management: Analyzing the Impact of Project Management Software
Utilization of Nanotechnology in Concrete: Enhancing Strength and Durability
Intelligent Transportation Systems: Improving Traffic Flow and Safety Through Technology
Climate-Responsive Urban Design: Strategies for Heat Mitigation in Urban Areas
Advancements in Offshore Wind Farm Foundations: Design and Installation Challenges
Augmented Reality in Civil Engineering Education: A Comparative Study of Learning Outcomes
Resilient Water Supply Systems: Adapting to Changing Climate Patterns
Assessment and Management of Aging Infrastructure: Case Studies in Bridge Rehabilitation
Bio-inspired Design in Civil Engineering: Learning from Nature for Sustainable Solutions
Zero Net Energy Buildings: Integrating Renewable Energy Sources in Structural Design
Environmental Impact Assessment in Civil Engineering Projects: A Comprehensive Analysis
Innovative Materials for Pavement Design: Improving Performance and Sustainability
Enhancing Seismic Retrofitting Techniques: Case Studies in Vulnerable Regions
Advances in Remote Sensing for Infrastructure Monitoring: Satellite and Drone Technologies
Humanitarian Engineering: Designing Infrastructure for Disaster-Prone Areas
Carbon Footprint of Construction Materials: Strategies for Reduction and Offset
Bioclimatic Architecture: Integrating Natural Elements for Energy Efficiency
Innovative Techniques for Ground Improvement in Soft Soil Regions
Urban Agriculture and Civil Engineering: Integrating Green Spaces in Urban Planning
3D Printing in Construction: Feasibility, Challenges, and Future Prospects
Water-Energy-Food Nexus: Integrated Management for Sustainable Development
Advancements in Soil-Structure Interaction Analysis: Implications for Foundation Design
Smart Materials in Civil Engineering: Applications and Challenges
Automated Construction and Robotics: Transforming the Future of Building Construction
Monitoring and Control of Air Quality in Urban Environments: Civil Engineering Solutions
Enhancing Resilience of Critical Infrastructure: Lessons from Cybersecurity Measures
Bicycle Infrastructure Planning in Urban Areas: Promoting Sustainable Transportation
Innovations in Earthquake Early Warning Systems: Real-time Monitoring and Alerting
Building Information Modeling (BIM) for Facility Management: Lifecycle Integration
Green Roofs and Urban Heat Island Effect: Evaluating the Cooling Benefits
Native Assignment Help - The best shot to grab a perfect Civil Engineering Dissertation Topics
If you are exhausted from finding a suitable topic for a Civil Engineering Dissertation, feel welcome to visit Online Assignment Help. At our services, you will get expertise who will end all your dissertation problems and serve you with the best topic. We have PhD scholars with vast experience in academic writing. You can visit our website and a smooth interaction from our end is promised at a given point of the day.
Conclusion: A civil engineering dissertation is a learning and professional journey for students. If they choose a good topic as their companion, they will outshine and have a bright future ahead of them. A civil engineering dissertation topic should be relevant, and futuristic and reflect a student's ideas and thoughts. To become successful with their thesis, each step should be taken wisely with proper guidance.