Pages: 13
Words: 3297
Innovation and Supply Chain Technology Assignment
Introduction - Innovation and Supply Chain Technology
Get free samples written by our Top-Notch subject experts for taking assignment help.
For more than a decade, supply chain management (SCM) has been used as a tool to reduce costs and improve operational efficiency in organizations. Contemporary supply change management requires strategic synchronization of end-to-end business operations to generate market and financial benefit, as well as offering a company a competitive edge over their business competitors, but they are only a portion of the total ecosystem (Kahn, 2018). Supply chain management is now more important than before, and it is critical to the success of any firm. Supply chain management has the ability to enhance customer service, save operational expenses, and increase a company's financial position.
Technology has re-shaped the approaches within the supply chain process, driving the companies to the desired success path (Kwak, Seo and Mason, 2018). The use of technology in supply chain management has provided companies with the opportunity to optimize their performance. In the present report, the discussion will demonstrate the supply chain innovation of Amazon and how it has shaped the company's business prospect.
Illustration of the Strategic Supply Chain Innovation in the Context of Amazon
Company Background
Amazon has been developing its efficiency by upgrading its technological investments and improving its services. The company has been known to be a customer-centric brand that considers the client convenience and demand first. The importance to maintain client satisfaction has been widely realised by the company. At one time, Amazon was just known as a bookshop, but it has since become the world's most profitable online retailer. Jeff Bezos launched Amazon in 1994, making it the world's largest e-commerce and cloud computing enterprise (Hahn, Kim and Youn, 2018). On its websites, this massive store offers a wide range of products, including albums, books, kitchenware, toys, and gadgets. Kindle e-books are also available as a service from the firm. Amazon's product selection is extensive. There are a wide variety of media options available on the website. Additionally, infant products, clothes, skincare products, kids wear, food, industrial equipment, timepieces, culinary items, musical equipment, gardening items, lifestyle products, utilities, and many automobile items are available to the customers. There is a separate website for select countries that provides worldwide shipping for some items.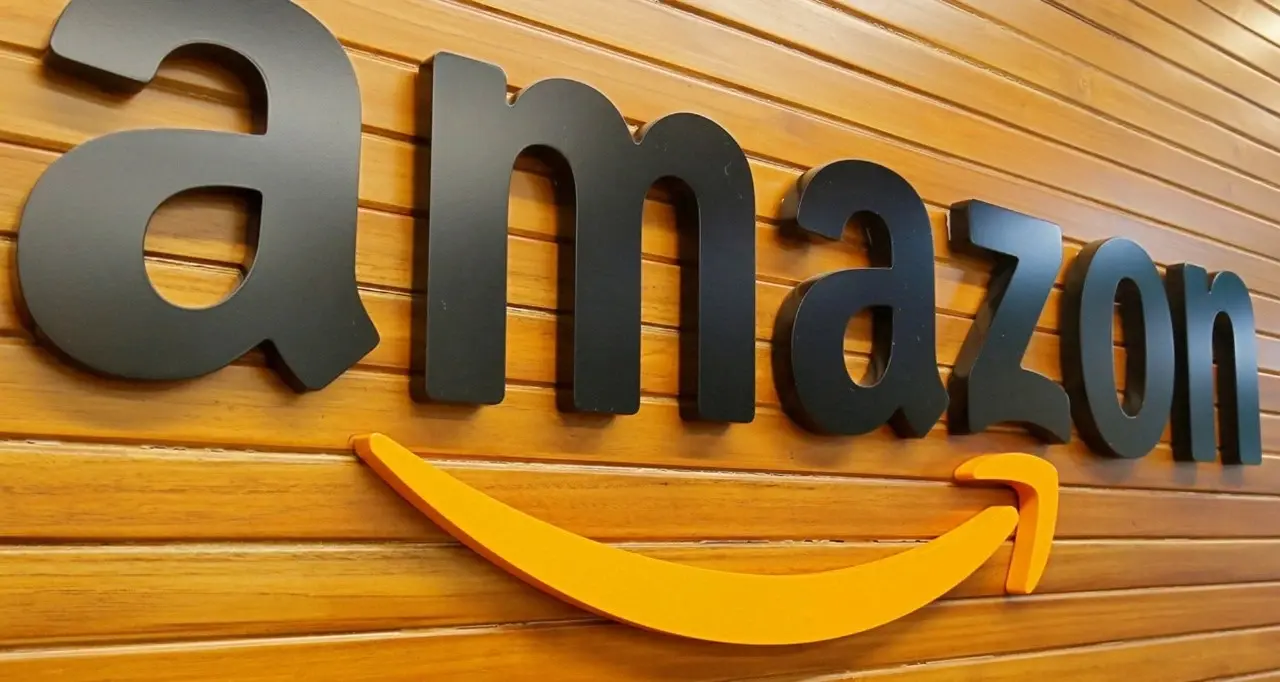 Figure 1: Amazon Logo
(Source: Hahn, Kim and Youn, 2018)
The company's tremendous success is based on its reputation for providing a wide choice of products and rapid delivery services. The Amazon website receives more than 193 million views per month. Over 200 provinces and territories are served by Amazon. According to Amazon's 2021 projections, the company's primary target demographic is middle- and upper-class households who have accessibility to computers or other smart devices (Hahn, Kim and Youn, 2018). Furthermore, Amazon's primary target market is the American market, which prefers to purchase online because of its low price and timely delivery service. In addition to being the world's biggest online retailer, Amazon is also a participant in the market.
The firm is up against a large number of rivals in the marketplace. Alibaba, Walmart, Flipkart, eBay, Online Stores, Target, etc. are examples of e-commerce enterprises. The corporation's service's effective deployment and efficient functioning are two of its most important success criteria. Despite having multiple market rivals and the extensive threat from external factors the company has been consistent with its performance. One of the core reasons is the innovation in supply chain management where the integration of technology has enabled the company to optimise its services (Kalaitzi etal., 2021). Amazon's popularity is on the rise, consequently, the company's activities and technologies have developed during the last three years in order to handle this expansion and rising demand of the customers. Since the company's inception, it has extended its transportation, warehouse and air services.
Supply Chain Innovation of The Company
Amazon is increasing its digital supply chain capabilities by using robots, drones, sensor-based surveillance, augmented reality, and artificial intelligence in its facilities and fulfilment centres (Kwak, Seo and Mason, 2018). Amazon is open to experimenting with everything computationally creative, which helps it maintain its competitive edge.
Drone Technology
Amazon's strategy to supply chain is to use technologies to its fullest extent. Numerous robotics and automated tools are used by the business, from order picking and packing to warehouse piling and storage (Tebaldi, Bigliardi and Bottani, 2018). Along with improving the firm's productivity by decreasing shipping times while reducing costs of storage and labour, these technologies also make it more affordable for other aspects of the supply chain's operations. With the debut of Amazon Prime Air, the corporation has adopted drones as well. Drones will ultimately allow for 30-minute shipments in some of the country's largest markets, but the initiative is not yet fully functional (Kusi-Sarpong, Gupta and Sarkis, 2019). If users reside within 15 miles of drone-enabled warehouses and have an Amazon-branded landing pad, they will be eligible to have airside shipments in no time.
Inventor Amazon's inventory storage and pick-and-pack activities are automated using robotic technologies. They are so confident in this approach that they created Amazon Robotics out of the $775 million they paid for Kiva Robots in 2012 (Bastiège, 2019). An estimated 100,000 robots are currently employed by Amazon in a variety of locations throughout the globe. The resulting rise in output has more than compensated for the initial outlay. It makes sense to automate this vast network, in part because warehouse personnel are becoming more difficult to come by. In spite of an increase in demand due to online shopping, fewer individuals are interested in these positions (Min, Zacharia and Smith, 2019). As a result, a rise in the hourly rate is on the horizon. Amazon has been able to keep ahead of the curve by investing in robots to automate warehouse management earlier. y technology
Warehousing
Amazon's success may be attributed in large part to its world-class warehousing approach, which guarantees that items are easily obtainable from almost everywhere. In order to guarantee that supply can meet demand, all of the firm's facilities are located near major metropolises and populated areas (Hahn, Kim and Youn, 2018). To guarantee that items can be sent and delivered quickly, even in smaller locations, there are even mini-warehouses. Furthermore, warehouses are also streamlined. As a result of the method, workers and pick-and-pack machines are able to quickly locate and move things toward delivery. Amazon's trucking software, Relay, was created to simplify warehouse shipments for the online retailer. This QR code allows drivers to submit the details of their goods to quicken their passage through Amazon's gates. As a result, Amazon is able to optimise its operations by knowing where all of its shipments are at any one moment.
Evaluation of the Theoretical Applicability and Innovation Concept
Analyse the supply chain innovation technology
Supply chain management is undergoing a technological revolution as a result of advancements in the field (Hahn, Kim and Youn, 2018). Supply chain management is ideal for technical advancement because of the requirement for real-time surveillance and precise control mechanisms, and smart, wireless, portable technology is paving the path for change in logistics and transportation.
Technology has shaped the retail industry in several ways, it has developed the supply chain actions with optimum capacities, strengthen the shipment capacities and enhanced the performance of a company.
Greater Efficiency and Transparency
As part of larger cost-cutting measures, merchants are under pressure to minimise supply chain expenses. Companies want their supply chain managers to provide them with more facilities and more visibility, but they don't want to pay more for it. For many 3PLs and supply chain managers, wireless and cloud-based solutions have been used to automate their procedures and increase reliability (Hylving, Henfridsson and Selander, 2012). There are several advantages to using mobile or automated systems, such as quicker and more efficient procedures and improved data capture, which can be used to optimise progress and identify areas for development. When it comes to wireless confirmation of receipt and real-time transit surveillance, portable mobile devices can assist managers to find and fixing technical challenges. Technology is also being used by 3PLs to optimise their customers' supply chains and enhance customer interactions. In commercial ventures, management may discover inefficiency and bottlenecks by using CRM technology, which provides an easy-to-access dashboard view into supply chain activities.
Tighter Communication and Community
Business operations are unquestionably facilitated by more frequent and fluid forms of communication (Agrawal and Narain, 2018). The use of mobile devices and real-time communication between the workplace and corporate headquarters may foster a better feeling of cohesion and progress. Improved communication and access to real-time information allow managers to stay on top of supply chain events, even while they are constantly on the go. Pings and the information pings used by enterprise technology solutions freely accessible on the market help workers of 3PL firms communicate better and give them the skills they need to become more agile.
Driver Shortage Drives New Technology
It is possible that DATP, which allows one driver to simultaneously "control" numerous trucks in parade configuration, might alleviate some of the pressure caused by the current driver scarcity (Agrawal and Narain, 2018). As a result, one driver would only be responsible for one vehicle in the "platoon," which would be followed by one or more automated vehicles. DATP has the potential to cut carbon emissions by increasing fuel efficiency and saving money, both of which are becoming more important as driver pay grow.
Application of theories
Dominant Design
In 1975, Utterback and Abernathy used the term "dominant design" to describe numerous technical aspects that have been accepted as the mainstream. In the eyes of the public, this is a resoundingly successful design. Innovators and rivals usually strive to stick to this one rule if they recognise that the market presence is important (Hylving, Henfridsson and Selander, 2012). A product's essential characteristics are defined by its dominant design, which is a specification. It's a base from which a plethora of distinct varieties springs forth that aren't essentially distinct from each other. It is the essential aspects of the item that define the performance characteristics that are shared by all variations developed on the same system.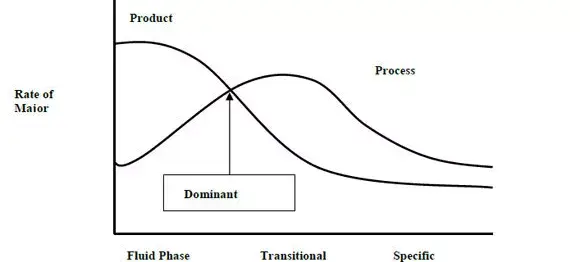 Figure 2: Dominant Design
(Source: Hylving, Henfridsson and Selander, 2012)
The whole industry tends to unite behind a single design when it gains traction. That specific design is clearly preferred by the target audience. The design must be adopted by any provider that wishes to participate. According to recent findings, the establishment of a dominant design is crucial to the technological life cycle. The shakeout stage of the technology lifecycle is directly linked to this. As soon as a dominating design develops, rivalry intensifies around it. The result is a situation where some rivals rise to the top, while others fade into obscurity. Many new companies join an industry before a dominating design develops. After a dominating design emerges, a fresh entrance slows down and eventually ceases. Before the dominant design develops, designers who wish to establish their place in an industry must do so. During the early stages, it is possible to play around with a wide range of options.
For Amazon, the innovation process has been extensively diversified and advancements have been made accordingly to become market compatible. Amazon can use this approach to introduce advanced technologies of its own to manage its distributions as despite having a comparatively uncomplicated supply chain system, the company often face incredible challenges to cater to its customers with an overload of demand.
Recommendation
Adapting to No contact Philosophy
For the "Don't Touch" principle to work, all components of the supply chain must be designed to minimize or eliminate any physical interaction or contact of materials and components. An emphasis on reducing waste is key to the Lean concept, and this fits right in for Amazon. Especially considering the efficiency and standard of quality (Agrawal and Narain, 2018). Any transportation or management of materials must be examined to ensure that the commodities are not affected in any way. Drop shipment, complete case fulfilment and restocking, and other supply chain methods reduce the number of handoffs and contact points. The same is applicable for information. How many times does a corporation have to enter the same piece of information regarding a product or piece of material over and over again is a key concern at the core of supply chain processes.
Fundamentally, identical data entering happens between suppliers, consumers, and shipping providers. Additionally, take into account data on forecasts, scheduling constraints, pricing information, materials details and requirements, purchase orders (and all the attendant modifications and updates), bills of lading, labelling, inventory records, and a host of other things (Hugos, 2018). This data is put into various systems and spreadsheets along the supply chain. While some of this data is generated automatically, the majority is input by hand. Additionally, the same information is put into other systems and spreadsheets. It is therefore essential for Amazon to come up with the Dominant design to keep the actionable procedures mostly contact-free, especially the data processing must be optimized in a way that eliminates the possibility of repetitive inputs and confiscates the possibility of confusion.
In light of the COVID-19 epidemic, supply chain corporations have a greater need to use solutions that assist them to make informed choices quicker (Abdelkafi and Pero, 2018). As a result, top supply chain companies are using artificial intelligence (AI) and sophisticated analytics to sift through the massive volumes of data they create in order to get a better understanding of what is occurring now and what is most likely to happen in the future.
Adaptation of DATP
AI and advanced analytics technologies will continue to be heavily invested in by businesses. This may be done to improve data quality or link dissimilar divisions or achieve strategic goals such as moving to more automatic, robust, and intelligent systems (Hahn, Kim and Youn, 2018). Whenever it comes to AI and analytic tools, supply chain professionals must have a wide and comprehensive view. There are several methods to use these technologies, such as data analysis, transparency tools, and in automated mobility, as well as ways to improve customer satisfaction and retention. One of them is the automated vehicle controlling systems. Amazon can capitalize on this aspect and initiate not only firm success but also the advancement of supply chain efficacy. Amazon can use DATP (Driver Assisted Truck Platooning) to automate its transit processes in the facilities. In this way, environmental emissions can be mitigated and costs can be reduced.
Conclusion
The supply chain management innovation strategy has been the primary theme of the whole analysis. The research has initially attempted to demonstrate Amazon's offerings and its corporate backgrounds. This section has illustrated a number of relevant topics, such as the target market, rivals, technologies, and so on. There is indeed a lot of emphasis on concepts of innovation in this study. As a result, the Dominant Design idea has been shown to be valid in this context as Amazon needs to be more advanced with its existing technologies and modify those to re-invent strategic supply chain approaches. The last component of the study evaluates all of the data and provides a set of suggestions for how Amazon's supply chain management might be improved with the adaptation of futuristic technologies. In a nutshell, the entire report has depicted the idea of innovation and brought out the significance of technological implementation in re-shaping existential ideas.
References
Abdelkafi, N. and Pero, M., 2018. Supply chain innovation-driven business models: Exploratory analysis and implications for management. Business Process Management Journal.
Agrawal, P. and Narain, R., 2018, December. Digital supply chain management: An Overview. In IOP Conference Series: Materials Science and Engineering (Vol. 455, No. 1, p. 012074). IOP Publishing.
Bastiège, M., 2019. How Amazon is totally Changing the global supply chain in the New Era, where companies are fighting to dominate the vision of business. International Journal of Information Systems and Supply Chain Management.
Hahn, Y., Kim, D. and Youn, M.K., 2018. A Brief Analysis of Amazon and Distribution Strategy. The Journal of Distribution Science, 16(4), pp.17-20.
Hahn, Y., Kim, D. and Youn, M.K., 2018. A Brief Analysis of Amazon and Distribution Strategy. The Journal of Distribution Science, 16(4), pp.17-20.
Hugos, M.H., 2018. Essentials of supply chain management. John Wiley & Sons.
Hylving, L., Henfridsson, O. and Selander, L., 2012. The role of dominant design in a product developing firm's digital innovation. JITTA: Journal of Information Technology Theory and Application, 13(2), p.5.
Kahn, K.B., 2018. Understanding innovation. Business Horizons, 61(3), pp.453-460.
Kalaitzi, D., Matopoulos, A., Fornasiero, R., Sardesai, S., Barros, A.C., Balech, S. and Muerza, V., 2021. Megatrends and trends shaping supply chain innovation. In Next generation supply chains (pp. 3-34). Springer, Cham.
Kusi-Sarpong, S., Gupta, H. and Sarkis, J., 2019. A supply chain sustainability innovation framework and evaluation methodology. International Journal of Production Research, 57(7), pp.1990-2008.
Kwak, D.W., Seo, Y.J. and Mason, R., 2018. Investigating the relationship between supply chain innovation, risk management capabilities and competitive advantage in global supply chains. International Journal of Operations & Production Management.
Min, S., Zacharia, Z.G. and Smith, C.D., 2019. Defining supply chain management: in the past, present, and future. Journal of Business Logistics, 40(1), pp.44-55.
Tebaldi, L., Bigliardi, B. and Bottani, E., 2018. Sustainable supply chain and innovation: A review of the recent literature. Sustainability, 10(11), p.3946.
Free Download Full Sample