Pages: 9
Words: 2300
Global Tourism Destinations Assignment
Get free samples written by our Top-Notch subject experts for taking Assignment helper.
Introduction - Global Tourism Destinations
Tourism is important for the growth of many economies across the world. There are different advantages of tourism on host destinations. Tourism enhances the profitability of the economy, produces thousands of employments, develops the assets of a nation (Cavagnaro, Staffieri and Postma, 2018). Tourism's cultural and social impacts refer to the manner in which tourism influences value systems, interpersonal behavior, family connections, societal life styles, moral behavior, artistic expression, traditional rites, and community organization.
As a senior member of "The Tourism Company", that is one of the UK's top tourism consultancies, along with providing customers in the UK and abroad with high-quality tourism plans, marketing plans, feasibility studies, and a range of other services, it is comprehendible that tourism has been a significant societal phenomenon from the dawn of time. Tourism contributes significantly to the country's economic development by generating revenue, promoting the destination as a central location for commerce, and creating a diverse range of jobs.
This report in its subsequent section will elaborately discuss regarding the scope and nature of tourism worldwide, the development of important emerging markets and destinations, the involvement of major players in global tourism development, and risks, concerns and obstacles to global tourism's future development for the better understanding of the subject matter.
LO1
1. Interpretation of statistics to appropriately offer an overview of the nature and patterns of tourism on a worldwide scale
Tourism is among the most important industries in the country's economy. According to the World Travel and Tourism Council's (WTTC) latest research, the contribution of travel and tourism was US$ 64 billion to the economies of the Top 10 countries in 2016, and that figure is expected to quadruple in the future decade. Modernization is accelerating in today's globe (Cavagnaro, Staffieri and Postma, 2018). Individuals are more interested in travelling than in settling down in their very own homes. Almost one billion people travel overseas each year. Money transfers take seconds, and billions of dollars are exchanged every day. In this travelling market, information and money are inextricably linked. Nowadays, tourism is among the most profitable segments for a country. The top ten countries in the globe can be credited with a substantial portion of this enormous development in tourism. The profit generated by visitor arrivals virtually quadrupled during the previous decade.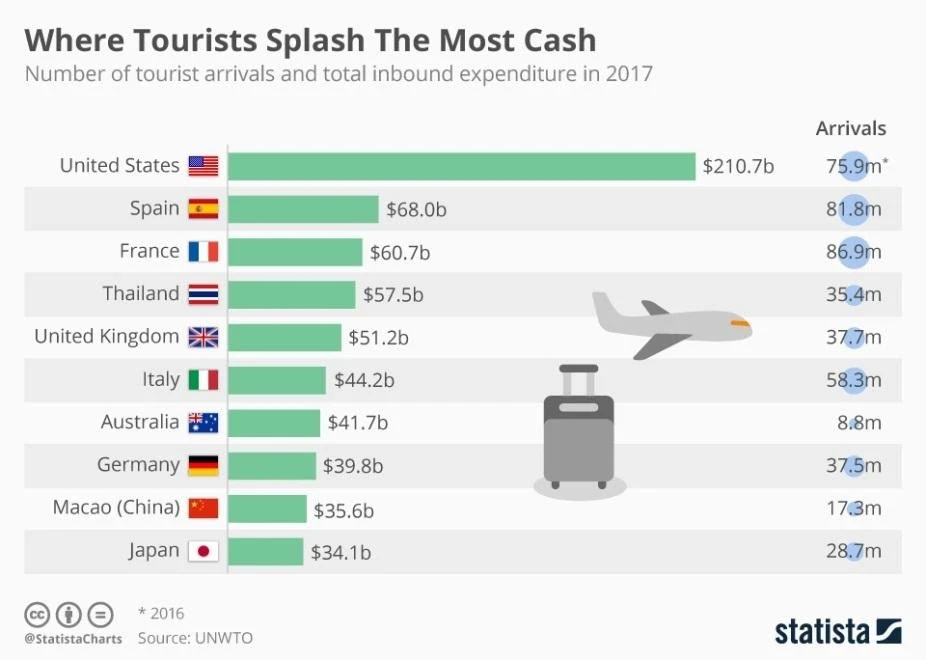 Figure 1: Highest number of tourist arrivals
Source: (McCarthy, 2018)
As illustrated in the data, the United States received the most tourists from the top ten nations, with 75.9 million visitors and $210.7 billion in expenditure in 2016 (Jia, 2020). Japan is last with a population of 28.7 million and a GDP of $34.1 billion.
2 Analysis of the characteristics of the world's major tourist-generating and receiving expanses
Out of the top 10 countries in the world, tourism stocks are quickly increasing in this current era of globalisation. By constructing a large number of projects, the city established itself as the primary tourist hotspot in the Top 10 countries, primarily attracting tourists from all around the world. These projects are designed in such a manner that they enable the city to comfortably cater to and facilitate its visitors. These locations were critical in orienting the city to the new world. These tourism hotspots facilitated the city's integration into the global estate. The citified evolution of cities demonstrates an enticing paradigm of globalisation marketing and people earning from its flows (Jin, Qu and Bao, 2019). While the city does offer natural beauty, it does it differently.
3 Features
Location: It is a critical component in attracting tourists to a resort. Naturally, people would desire to see locations they've never visited before. As an example, America is a country where historic monuments are scarce, prompting visitors to travel to countries such as India, which is densely packed with them.
Climate: It is another significant aspect in attracting tourists to a region. As an example, people who reside in hot climates will travel to cold climates and vice versa.
Environment: This is a critical component because visitors are mostly drawn to locations that provide access to fresh air and a clean environment conducive to relaxation in nature.
Cultural: Many people from various countries become delighted when they see certain previously unknown cultures of the world, which draws them to culturally rich regions (Chung et al., 2018).
3 Evaluation of the nature and scale of tourism on a global scale has been impacted by the emerging markets
Tourism's significance begins with the numerous perks and conveniences that it can provide to a place. However, the true significance of tourism would be that it benefits the overall growth and expansion of the economy by accounting for a sizable portion of a country's gross domestic product. Apart from that, tourism assists the country in developing brand value, image, and identity, all of which contribute to the country's external relations. When tourism is flourishing in a certain country, the economy grows spontaneously and without any effort (Job, Becken and Lane, 2017.). The description and structure of the tourism nature in a particular city are critical for improving tourism in that location. Tourism is not just about attractive destinations; it also plays a significant role in economic growth.
4 A critical examination of the influence of both established and new markets, as well as significant determinants of global tourism
With 1 billion foreign visitors in 2012 and an estimated 1.8 billion tourists by 2013, worldwide tourism is unquestionably rising, as seen by the figures and the improved graph. Growth alone is insufficient, which is why the destinations and their stakeholders must take responsibility for ensuring that growth is managed effectively to maximise the benefits of the tourism business. This way, the unfavourable external component may be minimised and the planning and management process can be enhanced continuously.
As per the World Bank, the top ten nations' clients and development agencies are currently planning and maintaining the components necessary to maintain the city as its primary tourism attraction. This process necessitates planning and administration for the development impact to be maximised. Additionally, the team is focusing on the involvement and implementation of sorts of help that could result in improved outcomes in this process. The travel industry study indicates that American travellers chose the Top 10 nations to be the most popular European destinations, with bookings increasing by 4.63 percent year over year. And to the Office for National Statistics, the number of tourists grew to 19 million in 2016 (San Martín, Herrero and García de los Salmones, 2019.).
Even though the operating power is among the most popular tourist destinations in the top ten, the serious apprehension is how the inclinations and obstacles could be addressed and how the strategy organized others for the intricacy, accurateness, compatibility, and sustainability aspects of the influence assessment. The "Sustainable Tourism Global Solutions group" recently convened a leadership gathering in Washington to initiate early discussions on how stakeholders may collaborate and address potential issues. This assists in evaluating the influence of tourism and determining how various difficulties may be addressed.
LO2
1 Identification of specific factors for the global tourist industry's rise in important tourism-generating and -receiving regions
To begin, various economic characteristics such as social position, income, and environment all have a significant impact on global tourism, particularly personal income. The distribution of wealth and the value of currencies affects tourism demand. Symptoms and expenditure are inextricably linked. As a result, a rise in the monetary value or price will result in a fall in demand. The reason that an increase in income can be associated with lower demand is that greater income will result in the same level of demand. The combination might be anything and is therefore imprecise.
The currency rate has exerted a greater influence on tourism demand, from the source region to international tourism. Exchange rate fluctuations are quite volatile and more so during the Christmas season. Tourism contributes economic value to a destination and can have a favourable or unfavourable economic influence on the destination's advantages and costs. Social factors such as crowd behaviour, human rights, and so forth also influence tourism demand. This also applies to the demographics. "Attraction", "Accessibility", "Accommodation", and "Amenities" are the four A's of destination (Virkar and Mallya, 2018). These are the key elements influencing travel and tourism to a certain extent. If a nation's destination contains all of these traits, it can be assessed that it is surely going to have a high tourism rate. Numerous factors, like cultural, historical and, geographical, all contribute to the attraction of tourists to a site. Due to the abundance of historical sites in India, physical and cultural factors favor Indian places, and evidence demonstrates that India is indeed a growing tourism destination.
2 Examination of a wide range of up-and-coming worldwide tourist locations in terms of the stages of lifecycles, growth factors, and tactics used to promote the tourism industry
To estimate a worldwide tourist destination's major growth and trends, such as the Top 10 countries, requires initially tracking and evaluating the influence of tourism. It must make a significant contribution to tourism development (Strader, 2017). There could be occurrences of various problems, such as how the terrorist operation negatively damaged the tourism attractions of the Top ten countries and how the areas have gradually recovered from the tragedy. These obstacles must be considered in light of the industry's effect, availability, quality, and reliability. Other variables, such as the growth of internet booking and stay platforms, are affecting the 10 leading hotels and related businesses physically present in the top ten countries. All of them must be managed effectively to avoid colliding with the tourism industry, which contributes equally to the region's economic prosperity.
India and Myanmar are two emerging and developing countries with attractive tourism locations. India is a country rich in historical sites and locations throughout the country, and those interested in learning about history flock to India in droves. Rajasthan, Uttar Pradesh, and Delhi, among others, are luring travellers to India. India and Myanmar both feature places for environment lovers, including Yangon, Kerala, Kashmir, and Old Bagan, among others.
3 The importance of various elements influencing and fueling tourism statistical patterns in a variety of distinct geographical locations is evaluated and compared
Considerable assessment is needed when delving into the theory of change by examining the notion of tourism development and the elements that influence tourists' behavior (Safaei, Elhadary and Ziaei, 2020). There are numerous sorts of tourism accessible, and each type's impact must be assessed. Additionally, the concept of innovation and evaluation must be considered. As such, there seem to be several critical areas on which to focus while assessing the tourism industry's contribution and improvement. Stakeholders should be informed of industry developments, and a record of major trends and growth regulators must also be kept.
References
Cavagnaro, E., Staffieri, S. and Postma, A., 2018. Understanding millennials' tourism experience: values and meaning to travel as a key for identifying target clusters for youth (sustainable) tourism. Journal of Tourism Futures.
Chung, N., Lee, H., Kim, J.Y. and Koo, C., 2018. The role of augmented reality for experience-influenced environments: The case of cultural heritage tourism in Korea. Journal of Travel Research, 57(5), pp.627-643.
Jia, S.S., 2020. Motivation and satisfaction of Chinese and US tourists in restaurants: A cross-cultural text mining of online reviews. Tourism Management, 78, p.104071.
Jin, X.C., Qu, M. and Bao, J., 2019. Impact of crisis events on Chinese outbound tourist flow: A framework for post-events growth. Tourism Management, 74, pp.334-344.
Job, H., Becken, S. and Lane, B., 2017. Protected Areas in a neoliberal world and the role of tourism in supporting conservation and sustainable development: an assessment of strategic planning, zoning, impact monitoring, and tourism management at natural World Heritage Sites. Journal of Sustainable Tourism, 25(12), pp.1697-1718.
McCarthy, N., 2018. Infographic: Where Tourists Splash The Most Cash. [online] Statista Infographics. Available at: https://www.statista.com/chart/15584/the-number-of-tourist-arrivals-and-total-inbound-expenditure/ [Accessed 5 Nov. 2021].
Safaei, M., Elhadary, T. and Ziaei, M., 2020. Investigating, measuring and comparing the characteristics of recreational and religious tourism in Iran and Turkey (Case Study:" Istanbul and Isfahan" metropolises). Journal of Talent Development and Excellence, 12(2s), pp.4148-4173.
San Martín, H., Herrero, A. and García de los Salmones, M.D.M., 2019. An integrative model of destination brand equity and tourist satisfaction. Current issues in tourism, 22(16), pp.1992-2013.
Strader, T.J., 2017. Identifying effective online service strategies: The impact of network externalities and organizational lifecycle stage. Journal of International Technology and Information Management, 26(3), pp.2-19.
Virkar, A.R. and Mallya, P.D., 2018. A review of dimensions of tourism transport affecting tourist satisfaction. Indian Journal of Commerce & Management Studies, 9(1), pp.72-80.
Free Download Full Sample